A bench vise is a piece of equipment that helps you perform a variety of tasks by securely holding something in place. If you mount it onto a workbench or something similar, you can expand the versatility of its use.
You can use your bench vise for cutting wood or metal, to stabilize something you want to drill into, to provide stability when you're doing a sanding task so you can apply pressure easily, or gluing – which is sort of an out-of-the-box use- as you can fix the object in place and apply glue in the specific areas you want and leave the object in place until it has dried.
As an Amazon Associate I earn from qualifying purchases. It helps pay for web hosting. Thank you! Read my disclosure for more info.
So what are some of the best bench vises on the market? We've made a list to answer this question specifically.
Here are some of the top-notch vises with their pros and cons listed.
Comparison Chart
Yost Vises 750-DI 5″ Heavy-Duty Multi-Jaw Rotating Combination Pipe and Bench Vise with 360-Degree Swivel Base and Head
TEKTON 8-Inch Swivel Bench Vise | 54008
IRWIN Tools Multi-Purpose Bench Vise, 5-Inch (4935505)
Yost LV-4 Home Vise 4-1/2″
Performance Tool W3904 Hammer Tough 5″ Quick Release Bench Vise
Grizzly G7062 Multi-Purpose 5-Inch Bench Vise
Panavise Model 301 Standard Vise Kit with 300 Standard Base and 303 Standard Head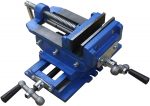 HFS (Tm) 5″ Cross Slide Vise Drill Press Metal Milling 2 Way X-Y Heavy Duty Clamp Machine
Wilton 11104 Wilton Bench Vise, Jaw Width 4-Inch, Jaw Opening 4-Inch
Yost Tools 445 Bench Vise
Best Top Bench Vises Reviews
1. Yost Tools 750-DI - The Best Overall Bench Vise
The Yost 750-DI 5" bench vise is a great tool if you're looking for a high-end vise that provides with a solid performance and flexibility.
It's constructed using heavy-duty 60,000 PSI ductile iron, so it's very rugged and undeniably quite heavy at 63 pounds. This beats most rivals, and it makes it more durable and gives it the ability to clamp with a 9,000 PSI of force.
Some of the clamping pressure stems from the self-align pipe jaws that offer multiple contact points. The fact that the jaws are made from hardened steel extends their longevity and durability.
The large size of the screw and nut also contribute to the high pressure this vise can apply.
The Yost 750-DI bench vise provides you with a high degree of flexibility due to the fact that its head can rotate 360 degrees with 12 different locking positions. This means you can work on your object from various angles.
The pull pin locking mechanism makes working with your vise very easy.
The Yost 750-DI 5" vise generally has no cons except the price and the weight. However, you can look at its weight as a pro as it makes more stable, and when you consider the durability and performance, its price is quite justified.
2. TEKTON 54008 - An Excellent Multi-Purpose Vise
The Tekton 54008 is a great multi-purpose bench vise.
Whether you're doing metal work, assembling parts, or doing repairs, the Tekton 54008 bench vise will make the process faster, safer, and more efficient.
The 30,000 PSI cast-iron guarantees the durability and reliability of the vise.
The jaws of the vise are serrated to secure your object in place and provide a sure grip. They're also replaceable, which is great as you can easily get new jaws when they're worn out rather than get a whole new vise.
The polished anvil gives you a smooth and consistent work surface for working with metal pieces to form and shame them as you like.
Unfortunately, the Tekton 54008 bench vise's swivel goes up to 120 degrees only, but that's still good enough for some flexibility.
Moreover, you can turn the sliding T-bar handle and have the jaw glide smoothly along the Acme-threaded main screw without chattering or binding, no matter how much the clamping pressure increases.
The Tekton 54008 bench vise is built to be solid and best suits light-duty jobs. It integrates a lot of helpful features at a price that beats other competitors'. Its lifetime warranty is one of its most notable features, especially when you consider the fact that it has replaceable jaws.
How to Choose a Bench Vise:
There are two main types of bench vises: The wood-working vise and the engineering vise.
The former is typically used for holding the wood in place so you can plane, cut, or sand it. Its jaws are wooden in order to protect the wood it holds.
The latter has metal jaws and is typically used for holding metal objects. It's usually heavier than the woodworking one.
Most of the vises listed above are engineering vises, but you can find a couple of wood-working vise-recommendations.
So obviously, the kind of work you'll be doing is where you should start your decision-making process.
After you've decided if you're going to mainly be working with wood or metal, there are 5 things to consider.
Jaws
There are 2 jaws to each vise, one is stationary and the other moves so you can place your object. How far the other opens is important because it determines what you can work with.
The style of the jaws is important as well. Flat jaws are more common and they're best-suited to hold flat objects such as planks.
If you want to work with round objects like metal tubing or something of that sort, then you should look for something with a V-jaw.
If you can find a vise with replaceable jaws, that would be a great purchase as your jaws can wear out from the excessive or heavy-duty use.
Swivel
The swivel on a vise can bring a great deal of flexibility to your project. The most common type of swivel is the one around the base. The ability to swivel and object means you can get better access to it during cutting or sanding.
Mount type
You can typically find two types of mounting interface. Either the bolt-on type or the clamp type.
The bolt-on type has 4 bolts to secure the bench vise to your work service and it's the ideal choice for heavy-duty jobs and it's generally more stable if you're going to apply a lot of pressure.
The clamp type bench vises are easier to install but aren't as secure as the bolt-on ones. They're generally more suitable for lighter projects.
Anvil
The anvil on a bench vise is a flat and durable surface. This is useful when it comes to taking heavy strikes (with a hammer or so) instead of applying that pressure on the workbench itself. Anvils also prevent any damage from falling on not only your surface but your materials and tools as well. It's a feature that will definitely extend the longevity of your bench vise.
Quick release
The quick release feature allows you to remove your object more easily from the jaws instead of having to twist the spindle manually every time. If you're dynamic and like to work quickly, the quick release feature is something you should pay attention for on a bench vise as it facilitates and quickens the process.
Which Is The Best Bench Vise Overall?
You should choose the size, weight, and functions of your vise according to what you plan on doing with it.
But generally, a good vise that combines a lot of features at an affordable price is the Grizzly G7062 bench.
Another great pick would be the Wilton 11104 4-inch Bench Vise as it's sturdy enough for heavy-duty work and comes at a lower price tag.
If you're looking for the most premium quality and components, then the Yost Vises 445 4.5" Utility Combination Pipe and Bench Vise is your go-to vise.
And if you're looking for the best value for your money when you're on a rather tighter budget, then the Yost LV-4 Home Vise 4-1/2" is the vise you should opt for.