Lithium-ion blowers admittedly can't give you as powerful a performance as gas-powered ones –for a few exceptions-.
However, if you're looking to do light or medium-duty jobs, or if you're not doing professional heavy-duty jobs, a cordless leaf blower might seem like a better choice for its maneuverability and ease of use.
As an Amazon Associate I earn from qualifying purchases. It helps pay for web hosting. Thank you! Read my disclosure for more info.
Here are some of the best cordless blowers you can find on the market.
Comparison Chart
DEWALT DCBL770X1 FLEXVOLT 60V MAX Lithium-Ion Brushless Handheld Blower (3.0AH)
WORX WG520 Turbine 600 Electric Leaf Blower, Black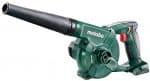 Metabo 18V Cordless Blower
BLACK+DECKER 3-in-1 Electric Leaf Blower, Leaf Vacuum, Mulcher, 12-Amp (BV6600)
Greenworks 40V 150 MPH Variable Speed Cordless Blower, 2.0 AH Battery Included 24252
DEWALT DCBL720P1 20V MAX 5.0 Ah Lithium Ion XR Brushless Blower
GreenWorks Pro Baretool 60-Volt Max Lithium Ion (Li-ion) 540-CFM 140-MPH Heavy-Duty Brushless Cordless Electric Leaf Blower (Tool Only, Battery and Charger Not Included))
EGO Power+ 480 CFM 3-Speed Turbo 56-Volt Lithium-Ion Cordless Electric Blower – Battery and Charger Not Included
Makita DUB182Z 18V LXT Lithium-Ion Cordless Blower, Tool Only
BLACK+DECKER LSW221 20V MAX Lithium Cordless Sweeper
WORX Turbine 56V Cordless Blower with Brushless Motor, 125 MPH and 465 CFM Output with Turbo Boost and Variable Speed – WG591
Best Best Cordless Leaf Blower Reviews
1. Dewalt DCBL770X1 – Best Overall Battery Powered Leaf Blower
With the Dewalt DCBL770X1, you get to choose between two nozzle sizes. Either a wide one that gives you 423 CFM and 129 MPH or a flat nozzle that lowers the volume to 287 CFM but boosts the airspeed to 175 MPH.
The wide nozzle will be helpful for most jobs. Whether you're clearing off clipping or leaves from a sidewalk or a driveway.
The flat nozzle reduces the air volume to help you deal with the more stubborn matter. This applies to wet grass and leaves that are stuck to hard surfaces.
Dewalt is sticking to the side intake method that introduces a little rotation in the air flow. That's why a slight S-curve shape in the nozzle is used to reduce it. By all means, this results in a loss of power due to the increased friction of the air.
You can set the speed according to your needs with the cruise control lock for the trigger.
The 2-finger variable speed trigger makes it easy to handle the Dewalt DCBL770X1.
The contoured handle makes the grip very comfortable to wrap your hand around.
Dewalt looks after your safety, so they provided this blower with a lock-off switch that's handy when it comes to transporting or storing your tool.
When you install the battery into your blower, it will slightly lean forward to keep the nozzle pointed toward the ground without you having to put effort into rotating it.
If you use the 3.0 amp battery that comes with the kit, you can run your blower for around 15 minutes straight. This isn't the longest runtime, but it's enough to get the job done.
All-in-all, the power of the Dewalt DCBL770X1 isn't the most powerful, but for a homeowner, you'd enjoy how easy it is to keep your pathway clear using this cordless leaf blower.
PROS
Reasonable performance

Ergonomic design and comfortable grip

2 nozzles for versatility
CONS
The battery isn't well-protected

Some loss of power due to the S-curve shape
CHECK LATEST PRICE ON AMAZON.COM
2. Worx WG520 – Best Gas-Powered Cordless Blower
The Worx WG520 blower integrates the TURBINE technology that delivers very powerful airflow that reaches speeds up to 110 mph.
This beats many gas-powered blowers –which are known for their strength.
The Worx WG520 has a hyper-stream air nozzle that can beat the most rugged conditions with its variable speed control.
This allows you to switch between speeds to tackle various jobs varying from light-duty to heavy-duty.
The Worx WG520 isn't too heavy at just a little over 6 pounds. You can carry it with one hand so and finish your clearing projects without straining your arms or experiencing fatigue after.
The power cord retainer spares you the hassle of the cords
Moreover, it comes with a 3-year warranty which should reassure you about the quality and durability of the blower.
The Worx WG520 Turbine is a great medium-budget choice for a leaf blower. It's strong enough to get the backyard or pathway clearing done. It's a great bargain for a battery-powered blower.
PROS
Durable

3-year warranty

Can be handled one-handed
CONS
Top speed isn't the strongest
CHECK LATEST PRICE ON AMAZON.COM
3. Metabo 18V Cordless Blower – Best Lightweight Leaf Blower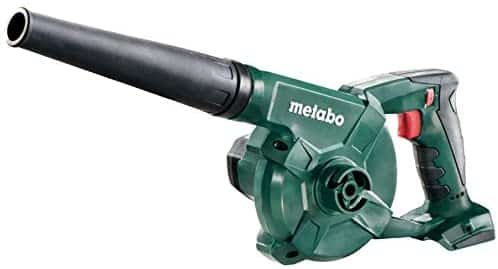 The Metabo 18V Cordless Blower is a great lightweight leaf blower that is easy to maneuver and handle.
It's pretty effective when it comes to clearing leaves and debris from pathways and yards.
This gas-powered blower can blow debris as far as 18 feet in a matter of seconds. Through its tapered nozzle, it can push up to 441 cubic feet of air at a 170 mph speed which is one of the highest on the list.
On the downside, the Metabo 18V Cordless Blower lacks the vacuum function, an anti-vibration technology, and a handled cushion.This makes you more prone to fatigue and wrist-strain if you use it for an extended period of time.
It's also quite light as it only weighs 0.02 pounds. This contributes to how easy it is to handle.
The auto-returns switch resets the power button when you put the blower down so that it doesn't take long to start when you return to working.
A downside to the Metabo 18V Cordless Blower though is that it makes a lot of noise when it's operating. The Hitachi RB24EAP has a specific type of fuel to function though and you need to make sure you have a 50:1 ratio of the gasoline to oil mix.
Moreover, its 7-year warranty is more than reassuring to the quality of its build and durability and makes it rather high price point more of an investment.
The Metabo 18V Cordless Blower is evidently a bit pricey for a leaf blower but the fact that it's strong, durable, and comes with a 7-year warranty makes it an investment worth the money.
PROS
Blast leaves and debris impressively far

Amazing 7-year warranty
CONS
CHECK LATEST PRICE ON AMAZON.COM
4. Black+Decker BV6600 – Best Value 3-in-1 Cordless Blower
If you're looking for a leaf blower that's easy to use and that powers through the leaves and debris easily, the Black+Decker BV6600 would easily gain your approval.
It's about 50% quieter in its operation than other competitors.
The high-impact metal fan helps prevent the clogging that might occur when you're mulching. This gives you the space to grind up to sixteen bags down into just one.
The Black+Decker BV6600 has two handles to give you a solid grip on the tool. It also has two speeds you can choose from.
This allows you to use a lower suction strength in a flowerbed so you won't suck up your flowers or use a stronger one for matted leaves.
Furthermore, the Black+Decker BV6600 runs on a 12 amp motor that features a 3-in-1 vacuum, blower, and mulcher that helps you keep your lawn clean.
Moreover, the tool-free charging allows you to switch back and forth between the mulcher and the blower in a matter of seconds.
The Black+Decker BV6600 is great for continuous use and has a built-in cord retainer where you can keep the extension cord plugged and in place.
With the reusable leaf bag, you'll save time and effort while cleaning up thanks to the three disposable bags that are easy to tie and throw away.
The Black+Decker BV6600 gives you great value for your money. Although it can be a little messy and might clog up easily, it still gives you powerful performance and keeps your yard and pathway clean.
PROS
Satisfactory blowing force and speed

The attachments are easily and quickly changed

The numerous straps make it easy to hold
CONS
The collection bag is prone to fraying and gets clogged up easily
CHECK LATEST PRICE ON AMAZON.COM
5. Greenworks 40V – A Great Battery Operated Leaf Blower
The Greenworks 40V shines because of its long-lasting battery that doesn't fade even as power runs low. This results in a consistent air stream until the battery completely runs out.
The variable speeds allow you to use the low setting for cleaning up dry leaves while the high speed –up to 150 MPH- can clear the stubborn wet leaves from tougher areas.
You can also target the airflow exactly where you want it which facilitates sweeping and gathering the leaves.
Its lightweight makes it easy to carry and spares you the fatigue. While its durability spares you the need to constantly repair it, so you can count on its consistent performance.
The Greenworks 40V is electric powered which means that you don't have to worry about the typical problems that you find with gas-powered blowers like gas and oil messes.
Moreover, being cordless means you won't have to deal with the hassle of maneuvering around the cord.
The Greenworks 40V is a leaf blower that you can really count on. At an average price point, it gives you quite above average performance and durability.
PROS
Lightweight

Easy to use

Ergonomic design

Powerful
CONS
Doesn't work quite well with heavier debris and wet leaves
CHECK LATEST PRICE ON AMAZON.COM
6. Dewalt DCBL720P1 – Best Lithium-Ion Cordless Leaf Blower
The Dewalt DCBL720P1 delivers a 90 MPH power and 400 CFM output which helps you tackle almost any task.
Both its body and coaxial fan are designed to keep up with the requirements of the maximum power output and runtime on the 20-volt battery.
The variable trigger and speed lock make it easy to use.
Moreover, the strength of the battery is accentuated by the accompanying charger for instant plug in and recharge.
It's quite easy to use, transport, and store thanks to its compact structure and lightweight. It weighs around 7 pounds.
If you're looking for a leaf blower that's both powerful and efficient, the Dewalt DCBL720P1 is the one you should opt for.
PROS
Quite powerful

An instant-on trigger that facilitates starting the blower

Variable speeds

Cleverly positioned intake
CONS
Can't handle heavier debris, clogged gutters, or wet leaves

The battery is very quickly drained on the full throttle speed
CHECK LATEST PRICE ON AMAZON.COM
7. GreenWorks Pro – Best Battery Backpack Blower
As the name suggests, the Greenworks Pro 60V Blower 540 CFM comes with a brushless motor.
It also integrates smart electronics which means that the battery and the blower communicate to work on protecting the components from thermal overload.
The inline setup accelerates the air flow through the blower -unlike the previous side intake design of the DeWalt Flexvolt- which reduces friction and thereby maximizes efficiency.
It's a little bit heavy at 9.75 pounds. In this particular aspect, it falls short of competitions' mark.
The cruise control option allows you to operate your Greenworks Pro without having to keep pressing the trigger button and straining your wrist.
Furthermore, the Greenworks Pro has a Turbo option to give you that maximum power burst whenever you need it.
The Greenworks Pro is a great choice for both a homeowner that wants to do an easy job around the house or a professional that's looking for a rechargeable backpack blower.
PROS
Fast charging time

Powerful motor

Three-speed variability

Quiet operation
CONS
Causes arm-fatigue when used for an extended period of time

No other tube attachments
CHECK LATEST PRICE ON AMAZON.COM
8. EGO Power+ 480 – A Powerful Handheld Cordless Blower
The EGO Power+ 480 CFM is a pretty powerful blower.
Although the battery is sold separately –which is a bit of a drawback-, it provides you with a very powerful performance when you put it into your tool.
Mix that with the brushless motor and you have a beast of a handheld cordless blower that can compete with the gas-powered ones while sparing you the fumes, the noise, and the mess.
The turbine fan engineering delivers variable speeds that you can choose according to the task at hand. From 250 CFM to 480 CFM, you're ready to tackle anything.
It also comes with 3 variable speeds. The high efficiency at 250 CFM, the high power at 385 CFM and the Turbo boost at 480 CFM.
Depending on the speed you choose, the EGO Power+ 480 CFM can last from 40 minutes to 60.
Its designed to be lightweight and compact for longer runtime.
With the EGO Power+ 480 CFM, you get a 3-year battery warranty and a 5-year warranty on the blower itself.
Furthermore, its construction is water-resistant to extend its durability.
The Power+ 480 CFM is a great blower if you're looking for something that's lightweight, efficient, versatile, and doesn't break the bank.
PROS
Lightweight

Great run-time to speed proportions

The battery is easy to detach and charge

Intuitive design
CONS
Not a very ergonomic design

May run out of battery with larger areas
CHECK LATEST PRICE ON AMAZON.COM
9. Makita DUB182Z – A Small Cordless Blower
The Makita DUB182Z is impressively powerful regarding both the fact that it's cordless and its very lightweight at just 3.9 pounds.
With 179 MPH winds and 91 CFM airflow, you're going to tackle all of the dry leaves and debris.
How compact the Makita DUB182Z makes it suitable for smaller tasks. Its nozzle is a bit short, but Makita provides an extension to suit all needs.
Some troubles have risen with the pressure points on the handle with extended periods of use. However, for quick use, the Makita DUB182Z's lightness is unbeatable.
If you're looking to do some smaller-yards work and want a compact leaf blower that provides you with more strength than it looks like it would, the Makita DUB182Z is definitely the blower for you.
PROS
The handle is ergonomically designed

Long-lasting battery

Very lightweight
CONS
Only works for light-duty jobs

Quite loud
CHECK LATEST PRICE ON AMAZON.COM
10. Black+Decker LSW221
The Black+Decker LSW221is a great blower to get rid of the debris or leaves on your porch or driveway without tiring yourself out.
The Black+Decker LSW221 has an airspeed of 130 mph which isn't that high compared to other blowers on the market but it's still good enough to get the job done.
Moreover, the sleep and lightweight design of the sweeper makes it easy to handle and direct.
It also works at a very low sound so you won't be getting a headache or bothering anyone while you clean up your driveway or porch.
Perhaps that most impressive thing about this model is that fact that its battery life can last up to 18 months.
The Black+Decker LSW221 isn't the cheapest option on this list but it's a good investment as it offers you a lot of great features and is quite generally the best leaf blower cordless you can get at that price point.
PROS
Amazing battery life

Lightweight

Extension tube to reach tougher places

Variable speeds
CONS
A bit overpriced

Not the most powerful on the market
CHECK LATEST PRICE ON AMAZON.COM
11. Worx WG591 Brushless Motor
The Worx WG591 comes with multi-speed fan control to enable you to use it for versatile tasks.
Worx integrates a turbine fan technology into the WG591 to make it powerful without compromising its ergonomic design.On the highest speed, you can get a maximum air volume of 465 CFM and airspeed of 125 MPH. The lower setting offers you 225 CFM and 60 MPH.
The brushless motor means that you get a higher power-to-weight ratio as well as maximized speed and electronic control.
On the maximum speed, the battery would last about 15 minutes. On the medium one, it lasts up to 25-30 minutes. In around 90 minutes, you can fully charge your battery and get to work.
It's powerful and performs amazingly. If you want a bang for your buck, this one is it.
PROS
Superbly powerful performance

3-year warranty

Interchangeable PowerShare batteries
CONS
The battery runs out rather quickly
CHECK LATEST PRICE ON AMAZON.COM
FINAL VERDICT
According to the kind of work and the kind of matter you want to get rid of you can settle on a decision.
If you're going to be working light-duty tasks mostly and want a durable blower, then go for the Makita DUB182Z.
If you're looking for the top-tier performance and durability without the budget being an obstacle, the Hitachi RB24EAP would be a suitable option for you.
While if you're looking for a leaf blower that combines a little bit of everything at an affordable price, the EGO Power+ 480 CFM should be the one you opt for.