Lithium-ion blowers admittedly can't give you as powerful a performance as gas-powered ones –for a few exceptions-.
However, if you're looking to do light or medium-duty jobs, or if you're not doing professional heavy-duty jobs, a cordless leaf blower might seem like a better choice for its maneuverability and ease of use.
As an Amazon Associate I earn from qualifying purchases. It helps pay for web hosting. Thank you! Read my disclosure for more info.
Here are some of the best cordless blowers you can find on the market.
Comparison Chart
DEWALT DCBL770X1 FLEXVOLT 60V MAX Lithium-Ion Brushless Handheld Blower (3.0AH)
WORX WG520 Turbine 600 Electric Leaf Blower, Black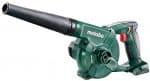 Metabo 18V Cordless Blower
BLACK+DECKER 3-in-1 Electric Leaf Blower, Leaf Vacuum, Mulcher, 12-Amp (BV6600)
Greenworks 40V 150 MPH Variable Speed Cordless Blower, 2.0 AH Battery Included 24252
DEWALT DCBL720P1 20V MAX 5.0 Ah Lithium Ion XR Brushless Blower
GreenWorks Pro Baretool 60-Volt Max Lithium Ion (Li-ion) 540-CFM 140-MPH Heavy-Duty Brushless Cordless Electric Leaf Blower (Tool Only, Battery and Charger Not Included))
EGO Power+ 480 CFM 3-Speed Turbo 56-Volt Lithium-Ion Cordless Electric Blower – Battery and Charger Not Included
Makita DUB182Z 18V LXT Lithium-Ion Cordless Blower, Tool Only
BLACK+DECKER LSW221 20V MAX Lithium Cordless Sweeper
WORX Turbine 56V Cordless Blower with Brushless Motor, 125 MPH and 465 CFM Output with Turbo Boost and Variable Speed – WG591
Best Best Cordless Leaf Blower Reviews
1. Dewalt DCBL770X1 - Best Overall Battery Powered Leaf Blower
With the Dewalt DCBL770X1, you get to choose between two nozzle sizes. Either a wide one that gives you 423 CFM and 129 MPH or a flat nozzle that lowers the volume to 287 CFM but boosts the airspeed to 175 MPH.
The wide nozzle will be helpful for most jobs. Whether you're clearing off clipping or leaves from a sidewalk or a driveway.
The flat nozzle reduces the air volume to help you deal with the more stubborn matter. This applies to wet grass and leaves that are stuck to hard surfaces.
Dewalt is sticking to the side intake method that introduces a little rotation in the air flow. That's why a slight S-curve shape in the nozzle is used to reduce it. By all means, this results in a loss of power due to the increased friction of the air.
You can set the speed according to your needs with the cruise control lock for the trigger.
The 2-finger variable speed trigger makes it easy to handle the Dewalt DCBL770X1.
The contoured handle makes the grip very comfortable to wrap your hand around.
Dewalt looks after your safety, so they provided this blower with a lock-off switch that's handy when it comes to transporting or storing your tool.
When you install the battery into your blower, it will slightly lean forward to keep the nozzle pointed toward the ground without you having to put effort into rotating it.
If you use the 3.0 amp battery that comes with the kit, you can run your blower for around 15 minutes straight. This isn't the longest runtime, but it's enough to get the job done.
All-in-all, the power of the Dewalt DCBL770X1 isn't the most powerful, but for a homeowner, you'd enjoy how easy it is to keep your pathway clear using this cordless leaf blower.
2. Worx WG520 - Best Gas-Powered Cordless Blower
The Worx WG520 blower integrates the TURBINE technology that delivers very powerful airflow that reaches speeds up to 110 mph.
This beats many gas-powered blowers –which are known for their strength.
The Worx WG520 has a hyper-stream air nozzle that can beat the most rugged conditions with its variable speed control.
This allows you to switch between speeds to tackle various jobs varying from light-duty to heavy-duty.
The Worx WG520 isn't too heavy at just a little over 6 pounds. You can carry it with one hand so and finish your clearing projects without straining your arms or experiencing fatigue after.
The power cord retainer spares you the hassle of the cords
Moreover, it comes with a 3-year warranty which should reassure you about the quality and durability of the blower.
The Worx WG520 Turbine is a great medium-budget choice for a leaf blower. It's strong enough to get the backyard or pathway clearing done. It's a great bargain for a battery-powered blower.
3. Metabo 18V Cordless Blower - Best Lightweight Leaf Blower
FINAL VERDICT
According to the kind of work and the kind of matter you want to get rid of you can settle on a decision.
If you're going to be working light-duty tasks mostly and want a durable blower, then go for the Makita DUB182Z.
If you're looking for the top-tier performance and durability without the budget being an obstacle, the Hitachi RB24EAP would be a suitable option for you.
While if you're looking for a leaf blower that combines a little bit of everything at an affordable price, the EGO Power+ 480 CFM should be the one you opt for.