If you're into making models, a Do-it-yourself (DIY) machinist, or a gun hobbyist, a mini metal lathe will surely be a great deal of help to you.
You can use lathes to create threaded parts as well as small components made with precision.
As an Amazon Associate I earn from qualifying purchases. It helps pay for web hosting. Thank you! Read my disclosure for more info.
There are a lot of small metal lathes that you can get for various tasks based on what you want to use it for.
But light work like pen-turning and small projects wouldn't require you to have a professional lathe machine and would best be done with a mini lathe.
You can choose between a variety of types of mini lathes like small metal lathes, hobby lathes, metal turning lathes, and many more.
To make the task easier for you, we've collected the best mini metal lathes and listed them below in this article.
Comparison Chart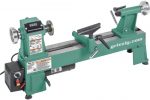 Grizzly T25926 Mini Metal Lathe, 10 x 28-Inch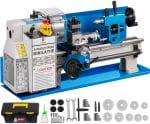 BestEquip 7 x 14 Mini Metal Lathe Variable Speed 2250 RPM
Central Machinery 7 x 10 Precision Mini Lathe by Central Machinery
SHOP FOX W1704 1/3-Horsepower Benchtop Lathe
Best Mini Metal Lathes Reviews
1. Grizzly T25926 – The Best Small Metal Lathe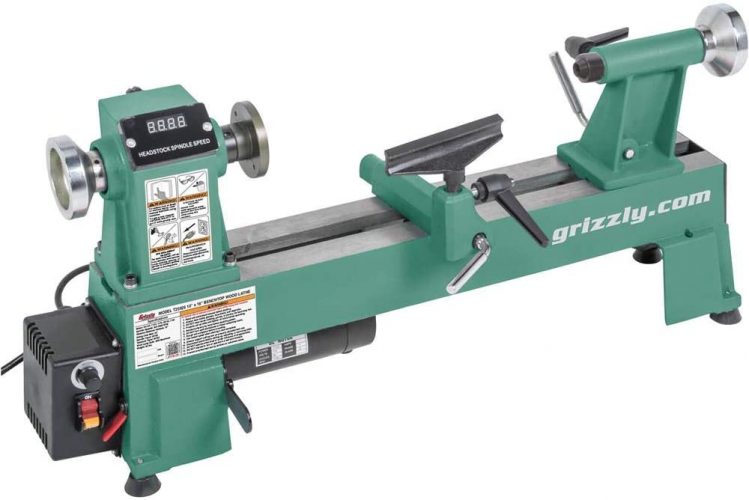 Grizzly's machines are well-known for their quality and effectiveness and one of those is the Grizzly T25926 (10 by 18 inches).
It's ideal for light tasks that wouldn't need a heavy tool for working with.
It's still as good as the Grizzly G9972z but is much more compact.
It can be said that the size of the Grizzly T25926 and its functionality are indirectly proportionate.
It gets your work done with a ¾ horsepower motor that delivers a great deal of energy.
The 7-inch swing over bed that it has isn't a feature that is commonly found on other metal lathes.
It has a 2.75 cross slide travel, a tailstock travel and a spindle bore of a 20-millimeter size.
It can make thread pitches that extend up to 10 meters and has a thread dial meter with standard graduations.
Its threading capabilities are various, including a thread range of 12-52 TPI (threads per inch), 18 standard and 10 metric thread pitches.
Moreover, it's equipped with a standard and metric hand wheel graduations and a threading dial indicator that is useful for notifying the user of the ongoing operations and procedures and helps you prevent any mistakes.
The Grizzly T25926 comes with variables speeds: 0 to 1100 RPM (revolutions per minute) for a low range and to 2500 RPM for a high range.
The variable speeds give you the most convenience to achieve the best work.
You can also work on both forward or reverse of any possible speed and it includes a 16-TPI reversible lead screw that facilitates handling various tasks. It's also faster and more efficient at its work.
The Grizzly T25926 comes with a chip pan, backsplash guard, 3-inch, 3-jaw chuck with external jaws, a 6¼ inch faceplate, a steady rest, a 4-way turret post, service tools, and the distance between its centers is 12 inches while the tailstock taper is MT#2 and the cross slide travel is 2¾ inches.
All of these features qualify it to be a perfect lathe for hobbies and smaller tasks.
The Grizzly T25926 is a high quality mini lathe, It could be a little noisy in its operation but its work is amazing.
For its cost, it does diverse jobs. Although it won't handle jobs with high precision, it's great for a hobbyist or smaller tasks.
PROS
Has both standard and metric graduations

Moves in a forward or reverse direction in all speeds

Has a high degree of adjustability

Easy to use

Great thread range
CONS
A little too exposed which makes it potentially dangerous

Quite pricey

The paint job isn't the best

A little noisy
CHECK LATEST PRICE ON AMAZON.COM
2. BestEquip 7 x 14 – Best Bench-top Mini Metal Lathe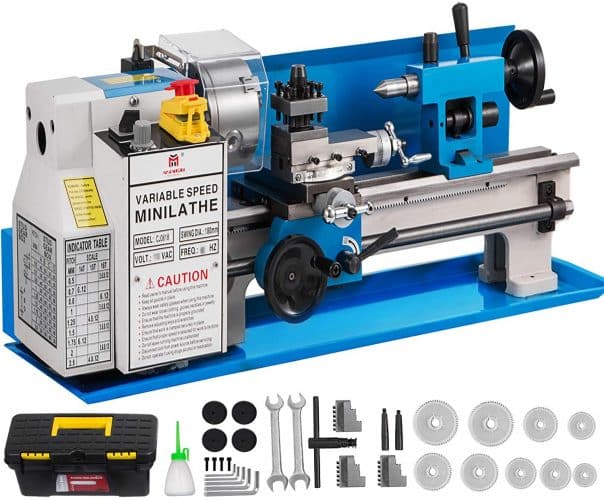 The BestEquip is a quite precise tool that will satisfy you with its operation.
It has pretty much all the parts, features, and components that are needed for the tasks you'd use it for.
It has thread indicators that help you determine the turn screw threads –which range from 12 to 52 TPI (turns per inch)- no matter where they are through the metric or imperial pitches.
Its speed ranges from 0 to 2250 revolutions per minute. It has a 3-jaw chuck which gives it strength, stability, and reliability and helps hold the object you're working on in place.
This ensures the safety of the user while they're working so they don't get injured or struggle with shaking and vibrations.
It comes with an MT3 spindle taper, MT2 dead center tailstock taper, and a 0.79-inch spindle bore.The capacity tool post enables the user to add up to 4 cutting tools at the same time.
You could also make simple substitutions while you're working on your project for things to be more convenient.
Its motor has a multidirectional speed scope which means that you can easily move it in either direction. This will be especially helpful if you're left-handed or ambidextrous.
The BestEquip comes with a five-piece carbide tipped cutter kit that doesn't leave any requirement you want unmet.
Its dimensions are 32.99 x 14.02 x 12.99 inches and it weighs around 101.9 pounds, which isn't the lightest or smallest but its high quality and precision compensate for that.
The worktop is around 7 inches wide by 14 inches long.
Its constructed of metal which makes it strong and durable as well as enables it to accommodate heavier materials.
A year's warranty leaves you reassured with the quality of this piece of machinery.
The BestEquip is a quite integrated mini lathe. Its most redeeming features are its flexibility and smooth, accurate performance.
You can use it for both projects and hobbies. It's basically the best option you can get for under a thousand bucks.
PROS
Can accommodate up to four cutting tools simultaneously

Gives you the ability to switch tools on-the-fly

Has a digital readout that is easily read

The simple turning of the screw heads

Has both metric and imperial pitches
CONS
Can be a little messy

A little complicated to figure out
CHECK LATEST PRICE ON AMAZON.COM
3. Central Machinery 7 x 10 – An Excellent Multi-Purpose Lathe
The Central Machinery 7×10 Precision is useful for a number of things like spindles, bushings design, prototype tool models, and others.
It has 18 threads and a micro-switch chuck guard.
This prevents the entanglement of your fingers or clothing in the chuck as the machine is operating and guarantees your safety.
It's perfect for a variety of settings such as engineering, educational, workshops, and labs. It has a corded electric power source and plastic steel rotatory handles.
Its automatic feed spares you the effort of finding the turn screw threads and feeding the load on your own. It also has a variable control knob.
The Central Machinery 7×10 Precision can be used for cutting a variety of materials from stainless steel to wood.
This makes it ideal for projects that take a long time thanks to its high power output and compact design.
Between the face of the jaws and the tip of the live center with the tailstock at the far end of the ways is 6 inches.
You could turn a self-supporting piece extending 8 inches from the 3-jaw chuck if you remove the tailstock and the threading dial. Each of them has one screw.
You can even extend that number to 10 inches if you use a collect instead of the chuck.
However, the spindle bore being less than 1 inches and the largest collect is about ½ or 5/8 inches, which means you would take some cuts.
The lit power switch indicates that the motor is on. The spindle chuck rotation can be changed from forward (clockwise), off, or reverse (counterclockwise).
The forward-off-reverse switch shouldn't by any means be used to switch the directions while the lathe is running.
The lead screw rotation can go from forward to neutral to reverse as well, and you shouldn't change the feed direction selector while the lathe is working.
You can adjust the speed of the spindle through the control knob from 0-1100 RPMs for low range and up to 2500 RPMs for a high range.
There's a 3 jaw chuck and a live center, and a 4 jaw chuck is also available. However, the Central Machinery 7×10 Precision comes with no cutting tools whatsoever.
The fact that the same factory in Shanghai makes so many of these machines means you can make a lot of easy replacements such as carriage rests, chucks, tool post grinders, and various sorts of tools.
The Central Machinery 7×10 Precision is a great and serves multiple functions.
The high-end motor has variable speeds and a chuck guard that serves to protect you from any possible injuries. It's a great value for the money.
PROS
Has 18 threads that simplify the controls

Perfect for a number of settings

Variable speeds and a control knob for maximized convenience

High torque and horsepower
CONS
The plastic construction isn't the most durable

The maintenance costs are a little too high
CHECK LATEST PRICE ON AMAZON.COM
4. Shop Fox W1704 1/3 Horsepower – A Lightweight Micro Metal Lathe
The Shop Fox W1704 Lathe is a great lathe for pen-turning and small projects. The fact that it's very useful and very lightweight makes it a must-have tool.
It's a great choice for someone who's new to the whole DIY deal as they will find all the features, specs, and items needed to start out.
The Shop Fox W1704 Lathe gives you infinite spindle speed variability. You can go from 0 RPMs to 700 RPMs to an astonishing 3200 RPMs.
This enables you to work on virtually any kind of material, be it metal or wood.
The dimensions of its footprint are 23-3/8 x 5-1/2 inches while its own dimensions are 7.1 x 27.9 x 13.7 inches and it weighs 50.75 pounds.
It's quite small and portable, which is perfect for a mini lathe. It also comes with its two tool rests and a 5/3-4 inch faceplate which is used to thread onto the headstock spindle for non-spindle turning.
This helps you make items that the tailstock cannot support such as bowls.
The lathe's centers are separated by a 12-inch distance and have an 8-inch swing over bed. The motor comes with 60 Hz, 2 AMP, 110 V, single-phase, and a 1/3 horsepower.
It's made of cast iron which gives it insane strength and durability against any factors that will wear and tear the machine.
The safety paddle switch ensures that you feel guarded and secure at all times as it regulates the extent of the force and other key parameters of the mini-lathe.
This allows you to work on your projects without worrying about getting injured or being prone to dangers.
It also has an MT No. 1 spur center, an MT No. 1 live center, and a ¾-by-16-inch TPI (thread per inch) RH spindle.
The Shop Fox W1704 Lathe has a solid construction that is sure to endure with you for a long while. It has a powerful motor with variable spindle speeds that allow you to work on anything.
It can easily be considered the best low-budget mini lathe that you can fit on most benchtops.
PROS
Enables the user to make difficult items like bowls

You can fit it on any workbench

The high horsepower motor performs exceptionally

Its manufacturer is the reputable Woodstock International brand
CONS
Requires a lot of effort to operate

A little bit complicated

Consumes a lot of power
CHECK LATEST PRICE ON AMAZON.COM
How to Choose a Mini Metal Lathe:
Generally, when you're shopping for a small and compact metal lathe you should look for a couple of things.
The Model
Make sure that the one you choose will suit the job you need it for.
Structural Construction
You should look for a solid, durable material that will sustain all the hard work you use it for.
What You Want to Use It For
The tasks you're intending to do, the material you're going to work with, and shapes you want to produce all have a say in what kind of lathe you should buy.
How Often You Intend to Use Your Mini Lathe
You'd want to opt for a stronger and more stable lathe if you're going to use it for metal, especially if you're going to do that frequently.
How Experienced You Are With Metal Lathes
Most of the aforementioned lathes are suitable for entry-level users, but if you think you've got what it takes to work on a more complicated lathe, you should go for it as it would produce better, more detailed work.
The mini lathe that you buy will, of course, be related to the way you want to use it.
Which Is The Best Overall Small Metal Lathe?
Generally, the best overall is the Grizzly T25926.
However, it can be a little too pricey for some. Good runner ups would be the BestEquip 7 x 14 Precision and the Central Machinery 7×10 Precision.
A good lathe that combines between both good performance and affordability would be the Fox W1704 1/3 Horsepower Bench Top Lathe.
Lathe FAQ?
Can You Turn Wood On A Metal Lathe?
Yes, although wood is known to be harder on machines than even metal, it can be done. It is important if you are going to turn wood on a metal lathe that you keep it clean as much as possible.
It should be noted that some Metal Lathe's will not turn as fast as a wood lathe would. So you will have to run the lathe as high as your RPM's will go.
What Is a Lathe Used For?
A metal lathe is used for shaping metalwork and other material The piece being worked is held and rotated while a tool bit is advanced into the material and does the cutting action.
A mini lathe is just a smaller version, it is a great way to accomplish some of the same machine work and save money.