Making a circle in a tile is one of the difficulties craftsmen face during a project. Even with the right knowledge of cutting a circle in a wood, it's not usually easy to cut a circle in a tile. This is because a tile is prone to break when not handled carefully during a cut. This makes most craftsmen avoid jobs involving cutting a tile. 
However, you don't have to abandon that project because you need to cut a circle in a tile, and you don't have the knowledge. All you need is the right guide, and this is the right piece to put you through.
As an Amazon Associate I earn from qualifying purchases. It helps pay for web hosting. Thank you! Read my disclosure for more info.
Tools for Cutting Circle in Tile
One interesting part of making a circle in a tile is that you don't necessarily need an array of special tools. Many of the tools you need are available in your workshop. If you don't have any that you need to buy, it should be one or two.
The required tools for cutting a circle in a tile include a hole saw, angle grinder, speed drill, and a clamp.
[one_fourth_first]
[/one_fourth_first][one_fourth]
[/one_fourth][one_fourth]
[/one_fourth][one_fourth_last]
[/one_fourth_last] [one_fourth_first]
Buy on Amazon
[/one_fourth_first][one_fourth]
Buy on Amazon
[/one_fourth][one_fourth]
Buy on Amazon
[/one_fourth][one_fourth_last]
Buy on Amazon
[/one_fourth_last]
Step 1: Choose the Right Tool
Note that you may not need to use all these tools at a time. Which tool to choose for the task depends on the circumference of the circle to make. 
Basically, the most commonly used tool for this task is a hole saw. The tool comes in different sizes, and which size is best for your task, again, depends on the circumference of the circle to make. 
However, using this tool is best suitable for making holes smaller than 4". Hence, you have to consider an alternative for making circles larger than 4" A trusty angle grinder is a great option for this instance.
Step 2: Get Set To Make the Cut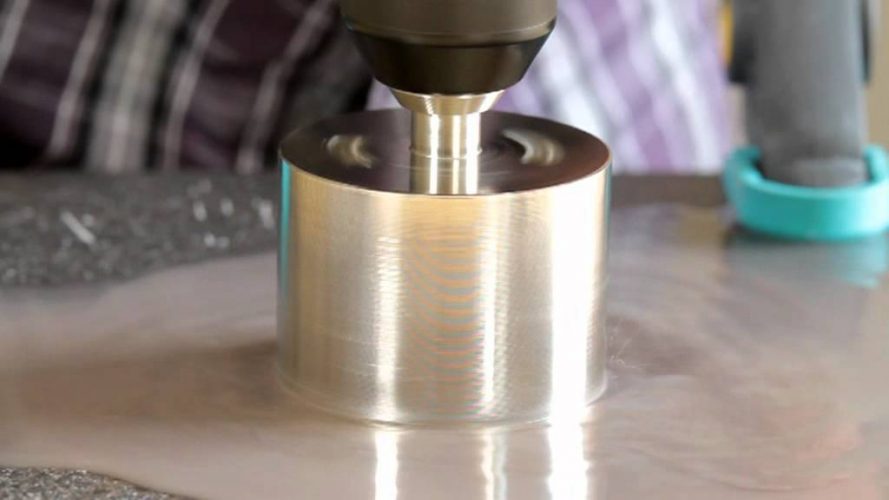 Now that you have chosen which tool is appropriate for the task, it's time to get started and make the cut. Using a hole saw is easier and more straightforward. However, in a project where you need a larger hole, you can trace a circle on the tile's back side. 
With this done, what is left for you is to take safety measures to protect yourself during the cutting process. Put on your goggles and gloves. Hearing protection is also important where you need to use noisy tools, such as an angle grinder.
Step 3: Cut the Hole
As said, two common ways you can cut a circle in a tile is either by using a hole saw or an angle grinder. Hence, we divide this into two:
Using a Hole Saw
Cutting a hole in a tile causes friction and generates heat. One common way to reduce this is to wet the tile to cut. Alternatively, you can dip the hole saw in some cooling oil before embarking on the cut.
Place the tile on a surface that lets you make a cut through the tile, such as the opening surface of a bucket. 
Set the hole saw that the bit in its middle points exactly at the center of the circle to cut. 
Gripping the tile with your free hand, drill into the tile slowly from any part of the circle that is convenient for you. Increase the space once the drill begins making the cut. 
Using an Angle Grinder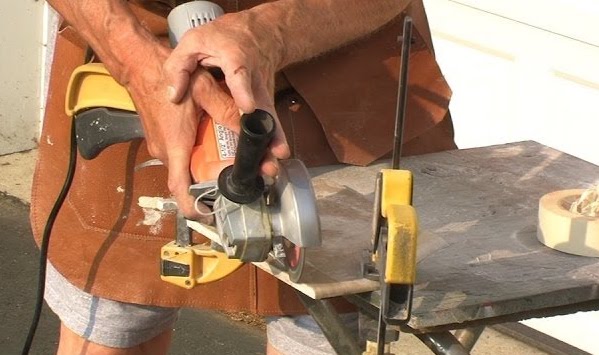 This is an excellent alternative for making a circle in a tile, especially when making a larger circle. 
This method requires clamping the tile to cut to a workbench. Since your focus will be on the cut, this method helps hold the tile in place.
Using an angle grinder requires several passes. Hence, begin by making your first pass and apply little pressure as the blade does its job. Make as many passes to cut out the circle in the tile completely. 
Step 4: Clean Up the Cut
By now, you should have a perfect circle out of your tile, and it's time to do the cleaning up. This involves removing the remaining ceramic dust from both sides of the tile using a damp rag.
Also, using an angle grinder might not give a perfect result. Hence, you need to perfect the job before moving on with your project. Using a tile file is a great means to remove any imperfections. 
How to Cut a Circle in a Tile – Conclusion 
Novice craftsmen usually have a hard time making a circle out of a tile because of the lack of the required knowledge. This article has shown you all it takes to cut a circle perfectly in a tile. If your first attempt takes a lot of time, be rest assured that you'll get it done faster the next time.