Quick Overview
FEATURES
QUALITY
PRICE
Pros
Eye shields
Aluminum oxide wheels
Locking power switch
Gains speed steadily
Stable
Quiet operation
Cons
Small tool rests
Not that powerful
The bench grinder is a beneficial power tool that allows users to sharpen and buff tools in a fast and convenient manner. The bench grinders of old had their setbacks but thanks to technology, today's models are far more advanced, easier to use, and more lightweight compared to older ones.
To speed your work and promote safety in the working area, we need items like the bench grinder to completely accomplish our tasks in record time. In need of a bench grinder for your projects? Let's explore the POWERTEC BGSS801 Slow Speed Bench Grinder in our review.
As an Amazon Associate I earn from qualifying purchases. It helps pay for web hosting. Thank you! Read my disclosure for more info.
CHECK LATEST PRICE ON AMAZON.COM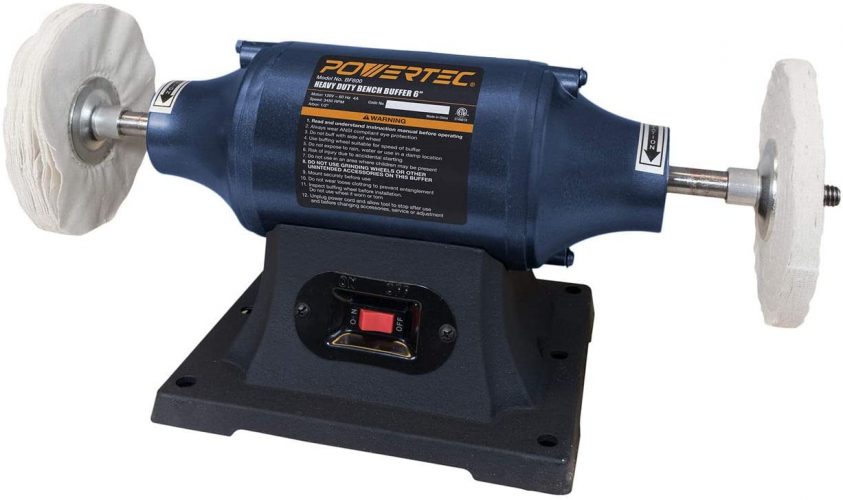 Features of the POWERTEC BF600 Heavy Duty Bench Buffer
Runs at speed of 3450 RPMs
Has noise-free 1/2 horsepower motor for a smoother performance
6″ buffing wheel diameter
Has heavy gauge steel base which minimizes vibration and enhances stability
Weighs 19.31 lbs.
Measures 20 x 10 x 9 inches
Advantages
There are many reasons why you need to have a bench grinder in your own workshop at home. If you want to sharpen tools or do some simple repairs, you can do so with a bench grinder that is meant for home use like this Powertec BGSS801 model. This is a slow speed bench grinder that will easily accommodate all of your intended home metalwork projects.
Enthusiasts who are into home improvement must consider investing in a bench grinder. The advantages that this unit offers trump the overall expenses of the first purchase. For DIY buffs, having a bench grinder around makes for convenience since they can sharpen and hone tools anytime they need without borrowing one from their friends or neighbors.
If you are in need of some lightweight work, you can always opt for a slow speed bench grinder for home use like this Powertec model. This is good for tackling the usual sharpening of blades, knives, chisels, and other similar items and for smaller home projects.
It has a Plexiglas shield for every wheel, a pair of spark arresters, plus tool rests for the wheels. One distinctive feature of the bench grinder is its locking power switch. Workshops at home are usually filled with hazardous devices that are kept in their individual storage spots.
The locking power switch of this unit serves as a safety component; hence, if you have children around who like dropping by in your working area, they will not be left vulnerable to the power tool. Another feature that you should watch out on this model is its while aluminum oxide wheels. The wheels generate less heat, which means it is capable of preventing tool overheating.
The model operates at a speed of 3450 RPMs so it can duly save your devices from overheating issues. Both its speed and the wheels work in conjunction to further reduce the levels of heat that the grinder churns out when in use. The grinder also will take a bit of time to start operating. Unlike cheaper models, which often begin in an automatic fashion, this model will instead gain speed steadily.
Newbies with bench grinders will find working with this model a good experience. This is a stable model and its base plus wheels are sufficient and adequate components that contribute to the overall efficiency of the product. Grinding may be complicated at first but as long as you have an effective machine on hand, you can accomplish the tasks you want to do.
The 1-inch wide wheels of this model make work simpler and its steel base minimizes vibration, which enhances stability over the course of a task. Its motor operates quietly and it can provide a smooth performance to ensure longer use. Overall, this is a great reasonably-priced bench grinder for DIY buffs and hobbyists who are budget-conscious.
Disadvantages
One issue of this Powertec model is that its tool rests are fairly tiny and it can be a challenge to modify. This is common with most grinders, though. You can choose to replace them if you are so inclined. All in all, this seems to be the only problem with this product.
Verdict
The POWERTEC BF600 Heavy Duty Bench Buffer is actually a worthy bench buffer especially if you are a beginner.
Its slow, steady RPM speed will not intimidate you and it will give excellent assistance on your projects. It has a solid structure and quality, has shields for each wheel, and it has a stable base.
Its wheels are efficient and it delivered a great job for blades, knives and other related items. The aluminum oxide wheels it comes with will prevent overheating so you will get longer service with this product. This is a device that works smoothly at a price you can afford; therefore, this is an excellent buy.