Power outages and cut-offs are bound to occur anytime. However, generators serve as a backup to provide electricity and are handy in emergencies. In picking the right generator, so many people consider reputable brands such as Honda that produce some of the smallest, portable and handy generators. These portable generators are famous for ease of operation, durability and convenience they provide.
What is the Smallest Honda Generator Available?
Prices pulled from the Amazon Product Advertising API on:
Product prices and availability are accurate as of the date/time indicated and are subject to change. Any price and availability information displayed on [relevant Amazon Site(s), as applicable] at the time of purchase will apply to the purchase of this product.
The smallest Honda Generator to opt for in 2021 is the Honda EU1000ie. Weighing only 29lbs, this generator is lightweight, compact, and easy to carry. The small size is a great plus for mobility, and it doesn't require much storage space. The power supplied by the Eu1000i is sufficient to match up with the supply from the power outlet, thus making it a reliable choice. In addition, this beautiful generator has inverter technology which means that you can have clean and stable power. It has an oil alert system that shuts the engine off when there is low oil pressure. Thanks to its exclusive eco-throttle system, EU1000i offers fuel efficiency. It has the capability of running up to 8.3 hours on a single tank, although this depends on the load tank.
| Pros | Cons |
| --- | --- |
| Portable and highly durable. | For a prolonged period of a power outage, large quantities of gasoline would have to be stored as the generator requires refueling. |
| Low noise level and environment friendly | |
| Incorporated Inverter technology to provide reliable power. | |
| Easy to start. | |
What are the features of the smallest Honda generator?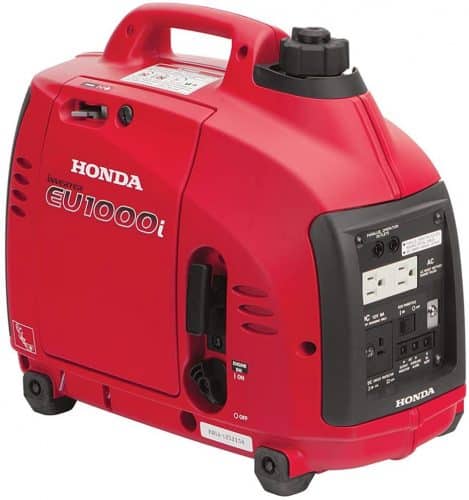 Small Size: With a dimension of 17.8 x 9.5 x 14.9, Honda Eu1000i is lightweight and hence easy to carry around. Perfect for camping events or outdoor gatherings.

Reliable Power: Having a starting wattage of 900 W and an output wattage of 1000W, it provides a stable and reliable output that can power essential home appliances.

Low noise level: Operating on a low noise level of 53 to 59 decibels, users do not have to worry about noise pollution or the inconvenience of the neighbors.

Protective design: Honda EU1000i employs oil alert protection which shuts off the engine automatically when low oil pressure is detected.

Fuel efficiency: The exclusive eco-throttle system provided by Honda makes it highly fuel-efficient and can withstand about 8hours of use on a full tank depending on electric load.
What is the cost of the Honda EU1000i?
The next thing that comes to mind is the cost of the Honda EU1000i. A new Honda EU1000ie generator is available for purchase at a price ranging from $1000 to $1300 on Amazon. Some online stores might offer pre-owned generators at half the price of a new one. Although a little pricey, the Honda EU100oi is worth every penny and has received 5-star ratings from its users.
Conclusion
Lack of electricity can be quite disorienting. If you need a portable generator to serve you in situations of a power outage, the Honda EU1000i promises to be a satisfactory choice for your electricity needs and provides excellent value for your money.