A pole saw is a great way to avoid any dangers that might occur due to using a saw high up on a ladder. It allows you to reach branches that are high and require that you mount yourself up on something.
Usually, pole saws are strong and adjustable to give you the best functionality.
As an Amazon Associate I earn from qualifying purchases. It helps pay for web hosting. Thank you! Read my disclosure for more info.
There are many options on the market that come with a cord or cordless, run on batteries, are gas-powered, or are electric.
In this article, we'll list the best pole saws you can find on the market to help you make a decision easier.
Comparison Chart
BLACK+DECKER LPP120 20-Volt Lithium-Ion Cordless Pole Saw
Remington RM1025SPS Ranger 8-Amp Electric 2-in-1 Pole Saw & Chainsaw with 10-Foot Telescoping Shaft and 10-Inch Bar for Tree Trimming and Pruning
WORX WG309 8 Amp 10″ 2-in-1 Electric Pole Saw & Chainsaw with Auto-Tension
Greenworks 8-Inch 40V Cordless Pole Saw, 3Ah Battery, CS-80-XR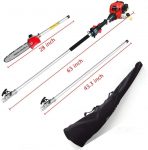 MAXTRA Pole Saw, Powerful Gas Pole Chainsaw
Sun Joe SWJ800E 8-Inch 6.5-Amp Telescoping Electric Pole Chain Saw with Automatic Chain Lubrication System
Best Pole Saw Reviews
1. Black+Decker LPP120 – The Best Overall Battery Pole Saw
The Black+Decker LPP120 runs on a 20 volts lithium-ion battery that charges quite fast.
It's quite powerful as it can deliver up to 100 cuts of 1.5 inches branches when it's on the full charge. If you trim regularly, this is going to be more than satisfactory for you.
Moreover, the motor is Energy Star rated which means that it provides you with the maximum efficiency on the minimum power consumption.
You can get this model with a battery or without one if you already own compatible batteries which allows you to save some money.
The classic handle provides you with a solid grip on the tool and enables you to finish complex jobs with easy handling.
Furthermore, the handle is coated with a rubber material that ensures a soft and comfortable grip. This allows you to use the saw for extended periods of time without feeling the strain on your wrist or experiencing fatigue.
Additionally, the shaft has an adjustable length between 6.5 feet to 10 feet. It gives you a maximum of 14 feet of reach along with an 8-inch bar. It is easily used to cut a maximum diameter of 6-inches comfortably.
The only drawback is that you cannot remove it and use it as a standalone chainsaw which reduces the versatility of the tool.
The Black+Decker LPP120 is made from 3 parts that you can quickly assemble and disassemble. A simple twist-and-lock can fit the pieces together right away.
The lightweight hollow fiberglass material that the pole is made from makes it solid, durable, and light. The whole saw weighs around 6.3 pounds. This makes handling it quite easy.
The fast charger quickly fills up the battery in under one hour which is the greatest advantage of having a lithium-ion power tool.
The maneuverability of the saw is another great advantage. Being cordless allows you to avoid the hassle of wires getting in the way.
Kickback is absolutely prevented thanks to its design. This ensures that beginners use this device while remaining completely safe.
Furthermore, the power switch is quite big and locks the chain instantaneously when you remove your finger from the button.
The Black+Decker LPP120's price range is not too high. For a cordless pole saw, it's quite hard to beat. With the portability and durability of the tool, it provides you great value for the money.
If you're looking to do light to medium duty jobs and a pole saw that you can easily handle, the cordless Black+Decker LPP120 should be the one you opt for. It's durable enough to last you quite a while and comes at a mid-range price.
PROS
Can reach overhead up to 14 feet

Lightweight and portable

Cordless

100 cuts on 1.5 inches branches on a full battery

Quick recharging, less than an hour
CONS
Chain bar can't be removed

Not powerful enough for heavy duty tasks
CHECK LATEST PRICE ON AMAZON.COM
2. Remington RM1025SPS – An Excellent 2-in-1 Pole Saw & Chainsaw
The Remington RM1025SPS isn't an under-powered pole saw, but its 8-amp motor isn't the strongest. It makes it suitable for general trimming and branch cutting.
The guide bar is a 2-in-1 detachable pole that makes it suitable for both tall and short trimming. It comes with a flip and lock clamp system that facilitates its length adjustment.
Moreover, the small size of this pole saw makes it great for small limb trimming on short trees or bushes.
The guide bar is made of fiberglass which makes it durable and light, so you can apply force to this unit without worrying about it bending or breaking.
Furthermore, the handle is coated with a soft rubber material which makes it comfortable to hold for extended periods of time and makes it anti-slip.
The Remington RM1025SPS is basically a 2-piece system which allows you to work on both small and tall areas.
The shortest you can get out of this saw is 10 feet with a 10-inch bar and chain. But you can extend that up to 15 feet overhead when you need to reach higher.
When you're working with the Remington RM1025SPS, you can trust its safety as the chain and bar have been designed to prevent kickback thanks to the handguard.
Additionally, you can completely remove the chain bar from the pole so you can operate it like a chainsaw.
This is especially convenient when you think about how the Remington RM1025SPS can cut logs with a 20-inch diameter.
The electric cable is cleverly and conveniently positioned at the front of the pole saw. This prevents it from getting in the way and increases the maneuverability of the saw.
The Remington RM1025SPS comes at a pretty low price point compared to other options on this list. Although it doesn't have the best versatility or highest durability, it's still hard to find a pole saw that can give you the same features at that price point.
The Remington RM1025SPS is a pretty cheap pole saw that is perfect for homeowners who are limited to a budget.
You can use it in various ways whether as a trimmer or a pruner on tall and small branches. It's not suitable for heavy-duty jobs, but all-in-all the Remington RM1025SPS is a reliable pole saw that'll get the job done.
PROS
2-in-1 pole system

The chain bar is removable

Sturdy and durable construction

Maximum reach of 15 feet

The anti-slip handle is comfortable
CONS
8 Amp motor isn't the most powerful
CHECK LATEST PRICE ON AMAZON.COM
3. Worx WG309 – A Great Lightweight Electric Pole Saw
The Worx WG309 is a great multifunctional tool that you can use as a whole or detach it to use it as a regular chainsaw that you can use to chop fallen limbs without using any tools.
The 8-foot extension pole that comes with the Worx WG309 extends its reach up to 10 feet. However, this isn't that impressive in comparison to other choices on the market. But it's sufficient for pruning around the house anyway.
Moreover, the Worx WG309 comes with an auto-tensioning system that is a great addition for extending the longevity of the bar and chain. In addition, the automatic oil pup comes with a level indicator to facilitate maintaining this pole saw.
Finally, the ergonomic comfort grip greatly reduces the strain on your wrist thereby minimizing hand fatigue during extended periods of use.
The Worx WG309 is a powerful pole saw with a creative design. It comes with some great features including being lightweight and precise while its motor is more powerful than a lot of competitions'.
If you've got the budget to buy the Worx WG309, you won't regret the purchase.
PROS
The working handle is rotatable

Detachable design of the pole saw

Auto-tension system

Ergonomic design with a comfort grip
CONS
Maximum reach is short

A bit noisy
CHECK LATEST PRICE ON AMAZON.COM
4. Greenworks PRO 9′ – A Powerful 80V Cordless Pole Saw
The Greenworks Pro 9' 80V comes with a handy 10-inch bar and chain at the end of the shaft to quickly cut through limbs and branches up to 6 inches in diameter.
Oil is basically the water of any tool, and the Greenworks Pro 9' 80V has an automatic oiler which applies oil to the bar and chain to extend the longevity and guarantee the durability of the tool. In other words, it keeps your saw hydrated.
The chain tensioning is easy to adjust so you can smoothly and quickly fix everything up.
Moreover, the brushless 80V motor can be controlled digitally to provide you with superb torque, extended run times, and noiseless operation.
The Greenworks Pro 9' 80V's shaft is composed of 3 pieces of aluminum so that it can extend up to 9 feet for added reach.
Finally, the recharging time of the battery is quite quick as it takes only 30 minutes to reach a full battery for the Greenworks Pro 9' 80V.
The Greenworks Pro 9' 80V is one of the more expensive options on this list but for a good reason. It works smoothly and powerfully as it can provide you with strong torque. It's also very durable and versatile. If you're a professional or if you're looking to advance in your progress, then the Greenworks Pro 9' 80V is definitely the pole saw that suits you.
PROS
Quick recharging time

Extended reach

Automatic oiling keeps the tool durable
CONS
CHECK LATEST PRICE ON AMAZON.COM
5. MAXTRA Pole Saw, Powerful Gas Pole Chainsaw – The Best Gas Pole Saw
The MAXTRA Pole Saw has a great design mixed with versatile functionality.
Its design is characterized by gas engine which delivers an impressive torque and number of rotations per minute.
The MAXTRA Pole Saw's engine is two cycle and doesn't require much maintenance.
It's a gas engine with a 42.7cc rating which releases great power that is enough to do the toughest cutting jobs.
Furthermore, the 10-inch bar and chain are designed specifically to enable you o maneuver around any tough job in a limited space between the branches.
Moreover, all of its components are mounted on a 8.2-feet pole whose length you can adjust easily according to your own needs.
You can also extend it to reach a height of 11.4 feet. This isn't the highest on the market, but it's good enough for most of the trimming and pruning jobs you'll need it for.
The MAXTRA Pole Saw is a great pole saw that cleverly combines between the versatility of features, durability, and affordability of price. It's your best option if you want something that performs well without breaking the bank.
PROS
Easy to handle

The engine is easy to maintain

Automatic oiling system

Multi-attachment design
CONS
A little noisy when operating
CHECK LATEST PRICE ON AMAZON.COM
6. Sun Joe SWJ800E – Best Budget Electric Pole Saw
The Sun Joe SWJ800E runs on a 6.5-ampere inductive motor which isn't the most powerful but still good enough for light to medium duty jobs.
The Sun Joe SWJ800E comes with a high-quality Oregon chain bar that is quite durable. The quality of it is pretty impressive regarding the fact that it's found on a budget pole saw.
Its chain and bar measure up to 8 inches which makes this pole saw suitable for cutting lumber that is up to 16 inches in diameter.
Even though the pole bar itself measures 8.7 feet, its telescopic design means you get a maximum reach of 15 feet.
This is more than sufficient for any gardening, arborist work, or trimming tall and hard-to-reach branches.
The Sun Joe SWJ800E is suitable for beginners because it comes with a simple twist and lock system.
Moreover, the handle of the Sun Joe SWJ800E is a closed system which means that it wraps around your hand to provide you with the maximum security and comfort.
This allows you to cut through hard materials, knots, and nodes without worrying about the pole saw leaving your hand.
Finally, you can separate the chain from this pole saw in the blink of an eye thanks to the special design used on the chain bar. Tensioning the chain is just as easy of a task as well.
The Sun Joe SWJ800E isn't the most powerful or ergonomic pole saw on the list, but it's definitely the most affordable.
At a low price point, it does have some good features to it. You can't expect it to do heavy-duty jobs for you, but it will work great when it comes to trimming branches of less than 7.5-inch diameters.
PROS
Affordability

Automatic oiling system with an oil compartment at the top

Operates quietly
CONS
Not strong for heavy-duty jobs

Lack of a handle and hand guard for when you use the tool as a chainsaw
CHECK LATEST PRICE ON AMAZON.COM
FINAL VERDICT
The best pole saw for you would be according to the purpose you're buying it for.
Whether you're looking to do heavy-duty work or simple trimmings and how far up you want to reach.
Generally, the MAXTRA Pole Saw is your best option for combining all the features at an affordable price.
If you're looking for top-notch performance and are willing to spend some dough, then you should opt for the Greenworks PRO 9′ 80V.
And finally, if you're looking for the cheapest option so that you can finish a job or two around the house, then you should go for the budget-friendly Sun Joe SWJ800E.